Users have the ability to create restricted document templates. These templates allow the template creators to specify areas inside of the template which can be edited when a user selects that template for a document. To create a restricted editing template navigate to the Template Manager:

Select "Blank Template" in "Add New Template"
Turn on the "Restricted Editing" toggle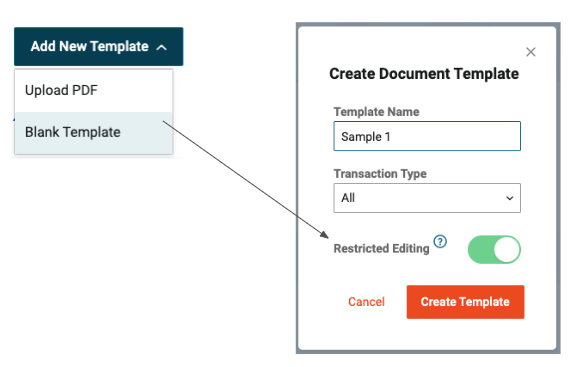 Now the template editor will open, allowing you to create the template content and specify which parts of the template are editable and which parts are not.
To specify a part of the template as editable:
Highlight text you wish to be editable when this template is used for a document
Click the "Enable editing" button to make the text editable
Selection will change colour to indicate it will be editable when this template used for a document
Note: To make editable text restricted, highlight the text and click the same button as step 2 above (now labeled "Disable editing").