You or your counter party can initiated the preparation of a document for signing. You will receive an email if preparation is initiated by your counterparty. The email will prompt you to return to Propdocs to complete the signing preparation process.

Click the "Send" -> "Signing" action in the Document Editor of any document to initiate the signing preparation yourself.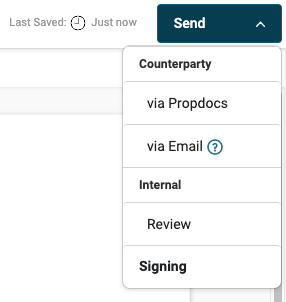 After prep has been initiated by you or your counterparty, the document will move in to the sign preparation status. In the signing preparation status, the document can no longer be edited. To send the document back to an editable state, click the "Edit Document" action in the Document Editor header.
Signing Preparation Sidebar
When you are preparing a document for signing, start with the signer sidebar. The sections in the sidebar will be used to create, order, insert edit signers.
Insert Signers
Select signers and then drag and drop locations for their signature, initials, date signed, and/or free text. The signer will be asked to fill in all these fields when the document is sent to them. If you see no signers in the list, you can add some in the Add Signers section.


Add Signers
This section allows you to add signers, which will populate the list in the Insert Signers section. enter a valid email and click "Add Signer".


Manage Signers
By default this section is minimized, and can be expanded. You can re-order the signers (top is the first person who will sign and bottom is last). You can also delete and edit signer emails.
Receive Signed Copy (CC)
By default this section is minimized, and can be expanded. Specify any emails who you would like to receive a copy of the final version of the signed document (once everyone has signed). All signers and deal participants will automatically receive a signed copy of the document when signing is complete, so those emails do not need to be added here.
When you are ready to send the document for signing, click the "Send for Signing" action. Please note that each signer created will require at least one "Signature" field inserted in to the document before you will be permitted to send the document for signing.